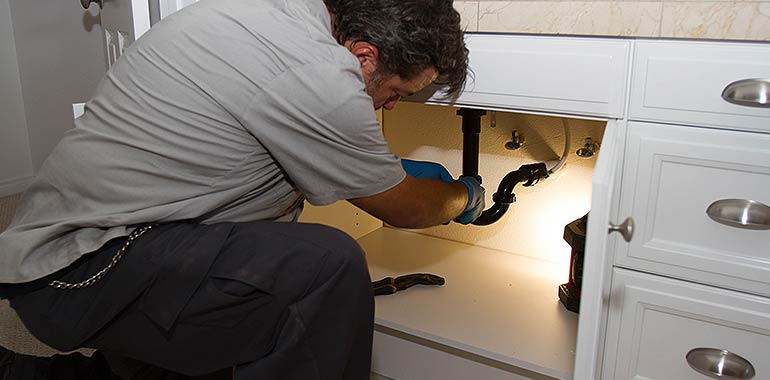 Finding a reliable plumbing service company shouldn't be a difficult task. For homeowners in Riverside, CA, and the surrounding area, it's as simple as calling Big John's Plumbing. With 25 years of industry experience and 10 years in business, we are the number one choice for many homeowners in the area. Our service with a smile is second to none and we are known for always putting our customers first. Whether you are looking for residential plumbing repair or a comprehensive plumbing installation, we have all your needs covered. Enjoy extra savings on your next call with our exclusive coupons and online deals.
Full-Service Plumbing
Plumbing Repair Service
From drain cleaning to water leak detections, timely plumbing repairs keep your home running smoothly. Our repairs are designed to be quick and efficient to get your home back to normal as quick as possible. Some of our most popular plumbing repairs include:
Drain Cleaning
Over the years, your drains become clogged with debris such as hair, food particles, and grease. This debris will eventually harden and create a stubborn blockage that causes problems in your home. With safe and effective drain cleaning and hydro jetting services, we can efficiently remove clogs and keep your drains running smoothly. We recommend investing in drain cleaning at least once per year as a preventative maintenance service.
Water Leak Detection
Water leaks are often difficult to diagnose because of the reduced visibility in and around the pipes. Using advanced water leak detection methods such as meter testing, infrared cameras, and dig and drill technology, we can quickly locate a leak and get started on an effective repair plan.
Plumbing Installation Services
As a trusted plumbing service company, homeowners trust us to make good decisions for them on all their plumbing projects. This means recommending the most efficient and cost-effective plumbing replacements for their home. Some of our popular installation services include:
Water Heater Installation
Is your water heater over 10-15 years old? Are you noticing frequent repairs and rising energy bills? You may benefit from a new water heater installation. Replacing an old and worn out water heater will help save money in the long run and improve the overall efficiency of your home.
Repiping Services
Often considered one of the most extensive residential plumbing services, repiping is necessary when your current piping system is failing and the safety of your family is at risk. Other reasons to invest in repiping is if you are experiencing frequent water leaks or you notice rising water bills. We also offer repiping options to suit any budget. Check out our latest customer testimonials and reviews to see what other people in your community have to say about working with us.
Reviews powered by Nearby Now
---
Mario C.
Water main installation .
Near
Garfield St,
Riverside
,
CA
92503
---
Mario C.
Near
Lakeside Dr,
Riverside
,
CA
92509
---
Mario C.
Near
Lakeside Dr,
Riverside
,
CA
92509
---
Mario C.
Repair water main.
Near
Lakeside Dr,
Riverside
,
CA
92509
---
John H.
Repairing a water main break.
Near
Lakeside Dr,
Riverside
,
CA
92509