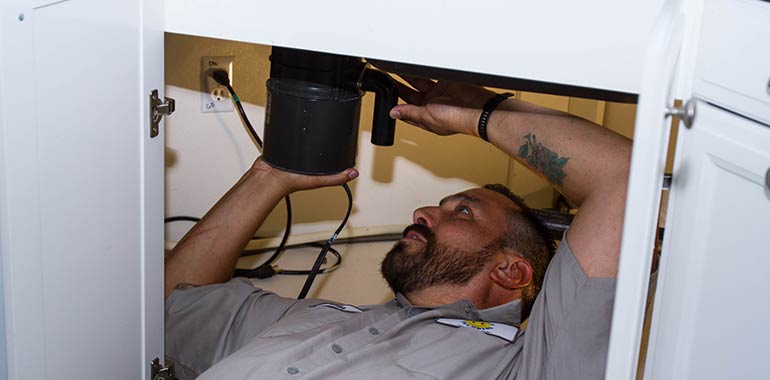 With your busy schedule, it's easy to let things slide. A dripping faucet, leaking sink, and faulty garbage disposal can quickly get pushed down to the bottom of your to-do list. But leaving these issues unchecked will end up costing you more in the end, which is why it's important to call a kitchen plumbing company as soon as you notice something amiss.
Big John's Plumbing in Riverside, CA is your trusted kitchen plumbing repair and installation expert. With years of experience, our friendly and knowledgeable technicians offer exceptional kitchen solutions that will help prevent future issues and save you money in the long run. Experience extra savings on your upcoming plumbing project with our exclusive online coupons and special offers.
Kitchen Faucet Repair and Sink Services
A dripping faucet is an issue that starts small and ends up driving a homeowner crazy. In addition to the constant dripping sound, you'll also be wasting a considerable amount of water, which will reflect in your water bill. Whether your faucet has a faulty washer, worn-out O-ring, cracked valve seat or the issue is simple sediment blocking the spout, we can help. Our technicians will take the unit apart and inspect it to find the underlying cause of the leak and fix it for good.
It's also important to be mindful of your kitchen sink. It may seem like this component will last forever without experiencing any problems, but some issues such as cracked seals or a broken drain basket will cause damage to your countertop and require professional kitchen sink plumbing services. Many homeowners also choose to replace their kitchen sink after several years for a quick update to the space.
How to Prevent Garbage Disposal Repair
Although your friends at Big John's Plumbing are here to make sure your garbage disposal is always working properly, avoiding problems in the first place is much better than reacting to issues once they happen. Here are a few best practice tips for reducing the need for garbage disposal service in your home:
● Never pour grease or oil down the disposal as it will damage the blades.
● Only use the disposal for soft, organic materials. Hard items such as bones or shells should always be kept out.
● If you have a lot of material to dispose of, do it in stages so the machine does not become jammed.
● Clean the blades after using the disposal by quickly running warm water through it.
● If you experience an issue or require a new garbage disposal installation, call a professional.
Sharp blades and an inexperienced hand do not mix well. Explore our most recent reviews and customer feedback to find out what it's like to work with us.