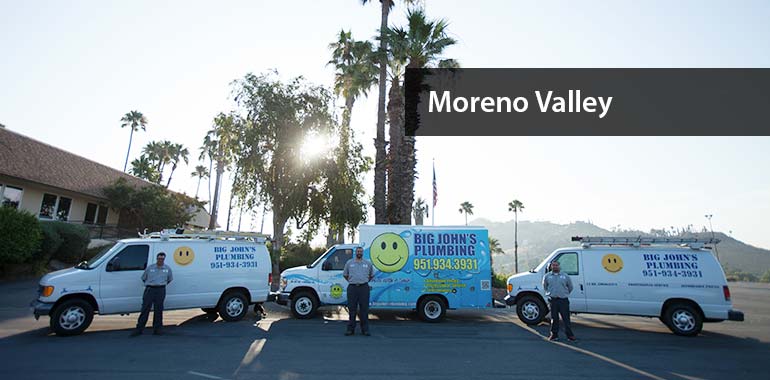 As the biggest investment of your life, your home requires attention and maintenance to run safely and efficiently. This means opting for some critical plumbing inspections, timely plumbing repair, and installations when you need them. Moreno Valley, CA homeowners always rely on the experts at Big John's Plumbing for all their plumbing service needs. As a trusted local plumber, we specialize in services like like drain cleaning, hot water tank repair service, water leak detection service, and more. With 25 years of industry experience and 10 years in business, we know what homeowners need to keep their plumbing systems running. Download our current online coupons and special offers to see how much you can save on your next call.
Trusted Plumbing Services
Whether you are looking for professional drain cleaning service or fast and effective burst pipe repair, we have the tools and experience to get the job done. As a trusted drain cleaning company, we use the safest, most effective methods to clean your drains and clear out any debris or clogs. We are also an experienced plumbing leak detection company, using advanced industry methods to locate water leaks in your home and repair them. When you need a new plumbing installation, we are also the contractors to call. Our exceptional renovations and installations are a great way to add value to your home and improve your overall plumbing efficiency. Services such as bathroom remodeling, repiping, and sewer line installations are all recommended over the years to maintain the upkeep of your home and keep things safe, efficient, and modern.
Should You Replace Your Water Heater?
Water heaters are vital plumbing components that all homeowners need. When the water heater is malfunctioning, you will notice it for sure. Losing hot water in the home is inconvenient. You'll feel frustrated and experience difficulty with simple tasks such as doing the dishes or taking a shower. In many cases, water heater repair can fix minor issues such as a broken thermostat or corroded wiring, however, at a certain point, you should consider a new hot water heater installation. Water heaters that are 10-15 years old and are experiencing frequent breakdowns and repairs should be replaced. If you notice rising energy bills from an inefficient unit, you should also consider a replacement in order to save money in the future. Big John's Plumbing can help you choose a new water heater that is perfect for your home. Read through some of our latest reviews to find out what real past customers have to say about our work. 
Local Reviews
for Moreno Valley, CA
Powered by Nearby Now
---