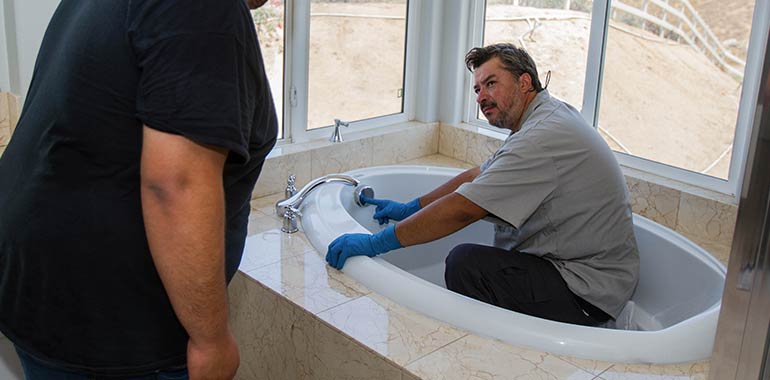 For Riverside, CA homeowners, a bathroom renovation is a great way to add value to your home and improve your comfort and quality of life. Working with bathroom remodeling companies like Big John's Plumbing is the best way to get the best value and peace of mind knowing the renovation is being carried out professionally.
With 10 years of service experience in the area, our bathroom repair services and renovations will help improve your home's efficiency, saving you money on your water and energy bills while also making your home more modern, and beautiful. Discover a new way to save on your next plumbing service with our latest coupons and online promotional offers.
Signs You Need a Bathroom Renovation
There will come a time in the lifetime of your home when a bathroom renovation is needed. Although you may spend money throughout the years on things like bathtub repair service or bathroom sink plumbing, a full renovation is often the best way to save the most money and add the most value. Some signs you should consider a bathroom remodeling project include:
● If you notice rising water bills from inefficient bathroom components, replacing them with water-efficient units will save money.
● Old and worn out tubs, sinks, and toilets should also be replaced to keep your home comfortable and looking great.
● If the needs of your family change, for instance, mobility issues arising or children growing up, you may want to consider installing bathroom components that will better suit your needs.
● Experiencing frequent issues that require repair are signs that you should replace components instead of continuing to repair them. If you're not sure if a bathroom renovation is right for you, call a bathroom repair company like Big John's Plumbing for an expert opinion.
Benefits of Professional Bathroom Renovations
Whether you're tired of investing money in bathtub plumbing repairs or you are simply trying to refresh your home, a bathroom renovation is a perfect solution. Some of the most significant benefits to working with a bathroom renovation contractor on this type of project include:
● You will save money with new dual-flush or water-conserving toilets and showers.
● Experience fewer repairs and leaky faucets in the bathroom.
● Add value to your home if you are planning to sell in the near future.
● Modern renovations will also make the room more comfortable, relaxing, functional and pleasant.
● A full renovation, including repiping the area, will ensure the new components work efficiently for years to come.
● Take advantage of current design trends and create a bathroom you are proud to show off to guests.
Wondering what it's like to work with us? Check out our latest reviews and customer testimonials to see what other people in the community are saying about us.