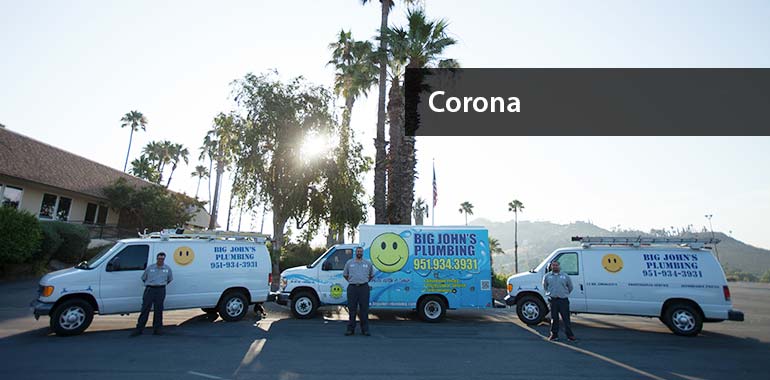 When you need prompt and effective plumbing solutions in Corona, CA count on the experts at Big John's Plumbing. With over 25 years of industry experience and 10 years in business, we are your number one source for all your plumbing service needs in the area. From safe and reliable drain cleaning to water leak detection service, we are more than your average drain cleaning company.
Our technicians provide service with a smile to every customer we work with. We put the customer first and make sure everyone receives the type of service we would want to receive ourselves. Try downloading our latest online coupons and exclusive deals to see how much you can save on your next service.
Looking for a Reliable Plumber?
Our plumbing repair and plumbing installation services are second-to-none. We offer exceptional advice and options when it comes to all your plumbing problems and concerns. Whether you are dealing with a stubbornly clogged toilet or you suspect a burst pipe in your home, we have answers. As a trusted plumbing leak detection company, we use some of the best technology in the industry to locate and repair water leaks. We also offer completely safe and effective drain cleaning service that will keep your pipes running smoothly for longer.
With an extensive list of plumbing installations, our customers can save money and improve the efficiency of their home. From installing water filtration systems to full bathroom renovation projects, our installations add value to your property and make your life easier. Money-Saving Water Heater Repair and Installation Services When the water heater in your home breaks down, you'll finally appreciate just how much you actually relied on it. Everything from showering to doing the dishes and laundry gets harder.
Common water hot water heater repair service appointments include fixing the thermostat and any malfunctioning electrical components in the unit. For older water heaters, we often recommend a new hot water heater installation. In many cases, it saves the homeowner money and time in the future. If you are noticing rising energy bills and frequent water heater repairs or if your water heater is over 10-15 years old, you should consider a new replacement to save money in the future.
Browse through our latest reviews and feedback from your friends and neighbors to finally see what other real people have to say about us.
Local Reviews
for Corona, CA
Powered by Nearby Now
---