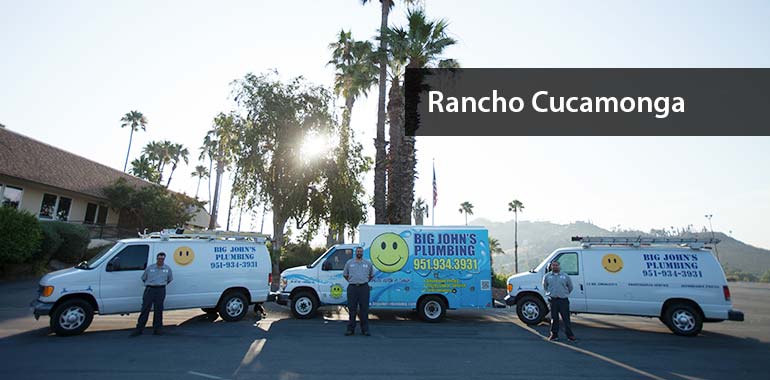 Experience the efficiency and value of working with a professional plumber on your next plumbing service. Big John's Plumbing offers some of the best drain cleaning, water leak detection, and water heater services in all of Rancho Cucamonga, CA. Our reliable technicians provide service with a smile so you always feel confident and comfortable with our work. From small plumbing repairs to comprehensive plumbing installation services, our range of products and services are designed to keep your home working safely and efficiently. We also provide money-saving options that will add value to your home and help improve efficiency, saving money in the long run. Enjoy added savings on your next call with our exclusive coupons and deals.
More Than Just Plumbing Repair
It's pretty easy to tell when something is going wrong with your plumbing system. Whether you are noticing slow-draining sinks or foul odors coming from the drain, we are a plumbing repair and drain cleaning company you can count on for solutions. Our drain cleaning service and water leak detection service are affordable and reliable. We work quickly and efficiently to get your plumbing system back to normal as quickly as possible. In addition to being a trusted repair and plumbing leak detection company, we also work on comprehensive plumbing installations. From bathroom renovations to repiping and sewer line installations, these services are designed to prevent future repairs, save money, and make your life easier. Many plumbing upgrades also add incredible value to your home and help reduce energy and water bills.
Water Heater Repair vs. a New Installation
Throughout the lifetime of your water heater, you will most likely need hot water tank repair service at some point. Water heater repair is good to fix anything from a broken thermostat to corroded wiring and beyond. However, there may come a point where a simple repair is no longer sufficient. A new hot water heater installation is a good choice for many reasons. For example, if your water heater is older than 10-15 years, it is probably losing efficiency. This means higher than normal energy bills. Older units are also known to break down more often, which adds to repair costs. Installing a new water heater will help reduce costs in the long-run and make your home more efficient. Discover what your friends and neighbors think about us by reading our most recent reviews and comments from past customers.
Local Reviews
for Rancho Cucamonga, CA
Powered by Nearby Now
---