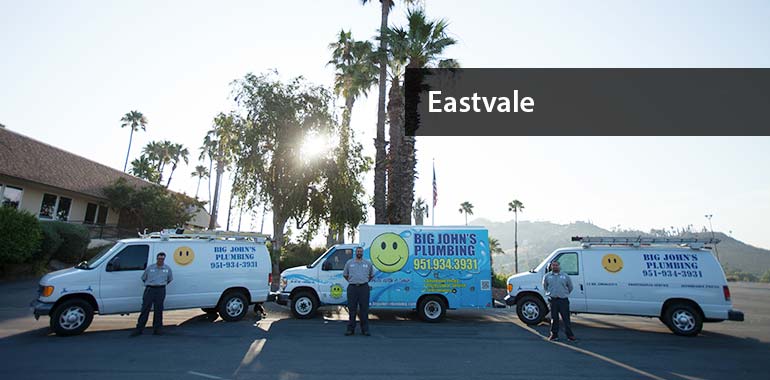 Eastvale, CA homeowners know value when they see it. That's why they continue to choose Big John's Plumbing for all their plumbing repair and installation services. With over 25 years of industry experience and 10 years of business operation, we know what homeowners need to operate safe and efficient plumbing systems. From professional drain cleaning to hot water heater installation and more, we offer exceptional plumbing service designed to save you time and money in the future. Our service always comes with a smile and we always put our customers first. Try downloading our latest online coupons to enjoy significant savings on your next call.
Your Trusted Plumbing Installation and Repair Expert
If you're looking for a plumber who will make sure your home's plumbing system is working safely and at peak efficiency, call the experts at Big John's Plumbing. Our experienced plumbing technicians offer simple solutions that will save you money in the long run. As a professional drain cleaning company, we offer safe and effective drain cleaning services. We are also a respected plumbing leak detection company, offering the most advanced and effective water leak detection service. In addition to our roster of reliable repair services, we also perform money-saving installations. From repiping to sewer line installations and bathroom renovations, our installations are designed to save you money in the long run and add value to your home. New plumbing installations are also a great way to reduce your carbon footprint since modern plumbing components such as dual-flush toilets and high-efficiency water heaters use less energy and water.
When to Invest in Water Heater Replacement?
Over the course of your water heater's lifetime, it will need certain repairs. This is a given that all homeowners must accept. Common water heater repair services like fixing broken thermostats and repairing corroded wiring are all common over the years. However, when will know when to invest in a hot water tank repair service versus when to throw in the towel and go for a brand new water heater installation? If your water heater is over 10-15 years old and you are noticing rising energy bills and frequent repairs, you should consider a new replacement. Big John's Plumbing can help you find a new water heater that will save you money in the long run and work perfectly in your home. Read our most recent reviews to see what other homeowners in the area are saying about our services.
Local Reviews
for Eastvale, CA
Powered by Nearby Now
---