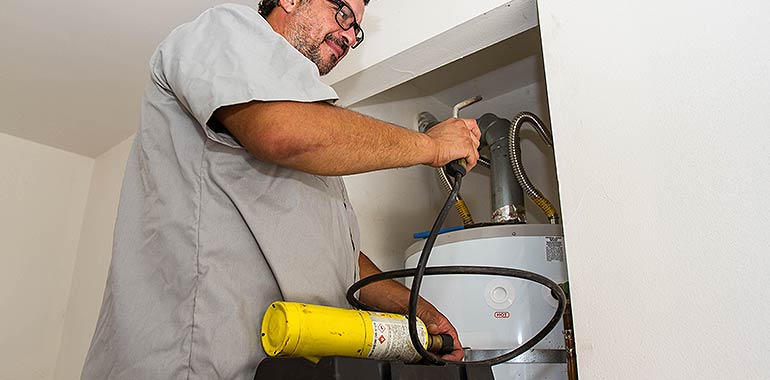 Most people would agree that the water heater is the single most important plumbing component in your home. This is why it's vital to keep the unit working efficiently and protect it with annual inspections, cleaning, timely repair, and new installations when necessary.
At Big John's Plumbing in Riverside, CA, we work hard to provide exceptional hot water heater service. As a trusted water heater repair company, we have years of experience dealing with the most complicated water heater replacement and repair jobs making us the best-qualified water heater contractors for you. Save instantly on your upcoming plumbing project when you download our latest coupons and online offers.
Common Hot Water Heater Repair Services
Water heaters are designed to work efficiently with minimal effort on the part of the homeowner. However, there are a few issues that come up every now and then that are more common than others. Some of the most common water heater repairs we see include:
Thermostat Issues: The thermostat controls the temperature of the water heater. If it breaks down, you will lose control the unit and either end up with water that is ice-cold or too hot.
Hard Water Damage: Over years of use, minerals like calcium, iron, and magnesium can build up in your tank and cause corrosion of components, tank failure, and leaks.
Physical Damage: Water tank and water heater repair from physical damage such as cracks or leaks are also common occurrences.
Is it Time for a New Hot Water Heater Installation?
Water heaters are not designed to last forever. In fact, most units will work efficiently in the home for about 8 to 10 years before they start to lose efficiency and require a new replacement. If you are noticing rising energy bills from an inefficient unit or you are experiencing frequent repairs and breakdowns that are costing you more to fix, a new replacement will solve the issue for good and save you money in the long run.
While Riverside water heater repair is good for a variety of issues, when it comes time to replace the water heater, it's best to choose a respected water heater installation company like Big John's Plumbing. A qualified expert will make sure your new water heater meets all your unique needs and budget requirements.
Additionally, they will make sure the unit is working at peak efficiency once it's installed and that it integrates flawlessly with all your other plumbing components. Discover what real customers are saying about us when you read our reviews and testimonials.