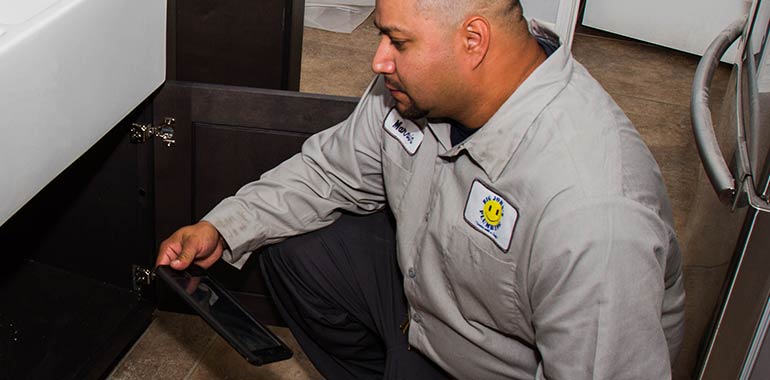 Water leaks are annoying inconveniences that can lead to significant damage to your property. At Big John's Plumbing in Riverside, CA, we offer exceptional water leak detection services designed to quickly locate leaks and get started on an effective repair plan. With 25 years of industry experience and 10 years serving the community with our high-quality service, we know what homeowners are looking for. We always put customers first and provide service with a smile for every call. Take advantage of our latest online coupons and promotions to save on your next plumbing service.
Signs of a Water Leak
Although pinpointing the exact location of a water leak should be left to a water leak detection company, it's easy for homeowners to spot leaks in general if they know what to look for. Learning to notice the signs of a water leak could save you hundreds of dollars and prevent significant water damage to your home.
Some of the most common signs of a water leak are:
● Hearing the sound of rushing water in the walls or floor.
● Water stains.
● Mold growth.
● Pooling water around the home's foundation.
● A sudden spike in your water bill. Any number of these signs should result in calling for water leak detection. Riverside homeowners can count on the expertise and advanced technology used by Big John's Plumbing to find and fix water leaks in the home.
Types of Water Leak Detection Methods
When it comes to pinpointing the source of a water leak, experts rely on different plumbing leak detection service methods. Depending on the general location and severity of the problem, we may use any number of these tools to detect leaks in the home:
Dig and Drill: This method is good in cases where we know the rough location of the leak. By digging and drilling into your floor or wall, we will expose the leak right away in order to facilitate a quick repair.
Meter Testing: Using a special tool, we measure the water pressure in your pipes and compare it to that of a healthy pipe. From there, we can determine if there is a leak.
Infrared Technology: An infrared camera allows us to take multiple pictures of the pipe from different angles in order to determine the severity of the leak. Read our most recent reviews and comments to find out what real people in your community are saying about us.