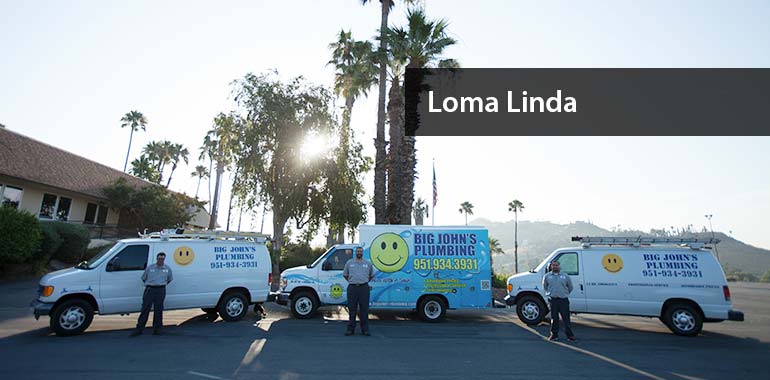 Looking for a respected plumber in Loma Linda, CA? Look no further than Big John's Plumbing. With over 25 years of industry experience and 10 years in business, we are one of the most trusted plumbing companies in the area.
Our trained and licensed technicians offer expert plumbing service including drain cleaning, water leak detection service, and more. We always put our customers first and always offer service with a smile so you know you are getting the best service whether it's for a comprehensive plumbing installation or a quick repair.
Check out our latest coupons and online offers to save on your next call.
Enjoy Working with a Top-Rated Plumber
Our plumbing repair services are known throughout the area as being thorough, affordable, and efficient. We work with homeowners to provide exceptional solutions based on your unique needs and service requirements. Whether you are looking for a professional drain cleaning company or an advanced plumbing leak detection repair company, we are your go-to professionals. Our drain cleaning service and other plumbing repairs are second-to-none.
When repairs won't get the job done, we opt for professional installations. With a long list of installation services, our customers enjoy the savings and improved efficiency that come from replacing old and worn out plumbing components with new, modern ones. Whether you are repiping your home, installing a water filtration system, or renovating a bathroom, our installations are always up to industry standards and on trend.
Is it Time for a New Water Heater?
Replacing a water heater is a service that many homeowners try to avoid. But in many cases, it is the most effective service to get the job done. Sometimes, you may experience water heater failure due to a broken thermostat or corroded wiring. These common issues are often fixed quickly with water heater repair from a trained professional, however, there will come a time when hot water tank repair service is no longer sufficient and you should consider a hot water heater installation instead.
If you are constantly dealing with water heater repairs and you notice rising energy bills from an inefficient unit, you should consider a replacement to save money in the future. As a general rule, we recommend that water heaters that are 10-15 years old should be replaced since they are starting to lose efficiency and costing more to operate. At Big John's Plumbing, we can help you choose a new water heater that will suit the personal needs of you and your family.
Explore our latest reviews and customer comments to see what other homeowners in the area are saying about us.
Local Reviews
for Loma Linda, CA
Powered by Nearby Now
---