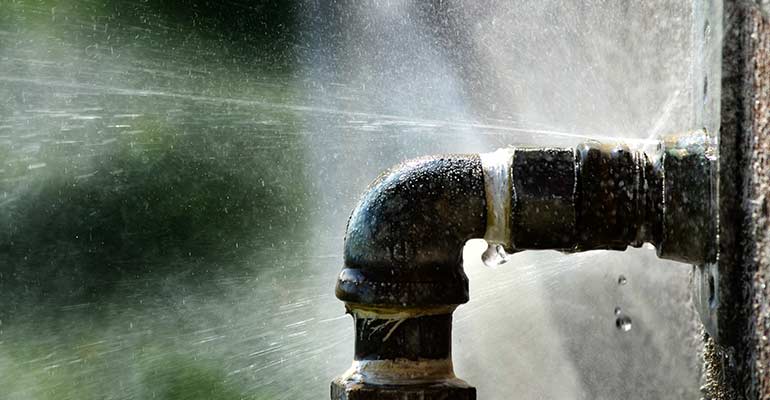 Nothing is more stressful for a homeowner than experiencing a burst pipe emergency. Within seconds, your home could be flooded with water from a ruptured pipe somewhere in the house. These issues are devastating, but also common, which is why the experts at Big John's Plumbing can quickly and efficiently spot the problem and offer a permanent solution. Riverside, CA homeowners have trusted us with their burst water pipe repair since 2007.
We work quickly and thoroughly to offer a comprehensive repair that will solve the problem and reduce the damage caused by burst pipes. Learn more about how you can save on your next call with our current online deals and coupons.
What Causes Burst Pipes?
In sunny California, homeowners are not susceptible to the freezing pipe problems that northern states experience. However, there are many other ways that a pipe can rupture. Some of the most common causes of plumbing leak repair in the home include:
Clogged Drains: When your drain or pipe becomes clogged with debris, it will put immense pressure on the pipe. Behind the clog, water will have nowhere to go, and, eventually, your pipe will rupture because it cannot handle the pressure.
Corroded Pipes:  Using chemical drain cleaners to unclog drains is a bad idea. The chemicals are harsh and corrosive, which damages your pipes and leaves you with weak spots in the pipe that are prone to rupture. Major Weather Events: Earthquakes, hurricanes, and other major weather events can also damage the pipes and cause a rupture or completely disconnect the pipe.
How to Prevent Burst Pipe Repair
Although some of the causes of burst pipes are unavoidable, many are completely preventable.
Here are a few ways to stop burst pipes in your home before they happen:
● Insulate your pipes with foam insulation to protect them from outside factors.
● Never use the pipes as support for storage. For example, never hang clothes on the pipes.
● Invest in annual drain cleaning services to keep the drains running smoothly.
● If you experience a clogged drain or toilet, call for immediate repair to prevent the buildup of pressure in the pipes.
● Never use chemical drain cleaning products in the pipes because it will corrode the material.
When you call for water leak repair service, we will assess the problem and determine the best solution, whether it's a patch, replacing part of the pipe, or repiping the entire system, our recommendations are cost-effective and efficient.
Find out what other people are saying about us by reading our latest reviews and feedback from past customers.