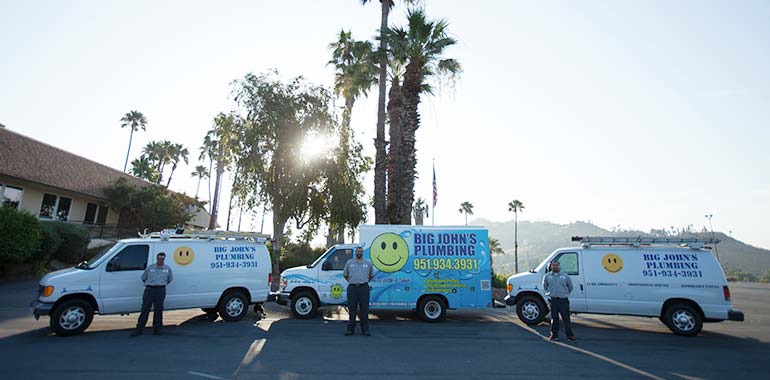 When you own a business or manage an apartment building, and you need to replace part of your plumbing system or install new plumbing from scratch, getting reliable help fast is key. Waiting too long for a new installation could hurt business and cause major discomfort for you, your employees and guests. That's why it's important to know a good commercial plumbing contractor that can provide a fast, accurate installation and get your business back up and running as quickly as possible.
At Big John's Plumbing, we specialize in commercial plumbing services for a range of industrial clients, with a focus on retail storefronts, restaurants, and apartment buildings. Since opening in 2007, we have served the area of Riverside, CA with consistent, efficient, and affordable commercial plumbing installations, making us one of the top trusted industrial plumbers in the area. With over 25 years of industry experience, our technicians can recommend the best products and services to save you money and improve your bottom line. Download our latest coupons and online offers to save even more money on your next call.
Is it Time to Repipe Your Commercial Building?
Repiping is an extensive project that many business owners and commercial building owners wish they could avoid. Many people see this service as wasteful and unnecessary but that could not be further from the truth. There are many reasons why a business owner would choose to repipe their building. Some of the most significant signs it's time to repipe include:
● You are experiencing frequent burst pipe emergencies and water leaks that require expensive repair.
● Noticing rising water bills from leaking and inefficient pipes.
● The quality of water in your building changes significantly with either a change in the smell or color of the water.
● You are losing water pressure.
● The pipes in your building are old and made from materials like lead. When you work with industrial plumbing companies like Big John's Plumbing, you can expect options when it comes to your commercial repiping project. We'll go through the process and help you make a decision that will truly benefit your building.
Expert Commercial Water Heater Installations
Many businesses rely on a water heater to provide hot water for tenants and customers. Without a working water heater, your clients will be uncomfortable and inconvenienced. This means investing in high-quality water heater services when needed and knowing when to replace a water heater instead of opting for another repair. Some signs that you should replace your water heater include:
● You are noticing rising energy bills from an inefficient unit.
● Your water heater is constantly breaking down, requiring repairs.
● The unit is over 10-15 years old. Water heaters should be replaced every 10-15 years in order to make sure you are not paying extra on your energy bill or on unnecessary water heater repairs. Staying vigilant on this will help save you time and money in the future.
Check out our latest reviews and customer comments to see what other people in the community are saying about our work.
Gain Peace of Mind with Full-Service Property Management 
Are you a commercial property owner and would like peace of mind knowing there is a professional service on call to handle any plumbing related situation that arises? At Big John's Plumbing we provide full-service property management as one of our core services.
Whether you currently live in the property yourself and are looking to put your mind at ease knowing you are covered, or you are currently renting to a tenant, get in touch with us to learn more about the services we provide. We will help you develop a management package that fits your needs and budget. 
Here are just some of the services we provide:
● Water Heater Installation
● Fixture Replacement
● Home Water Filtration Systems
● Repiping
● And More!