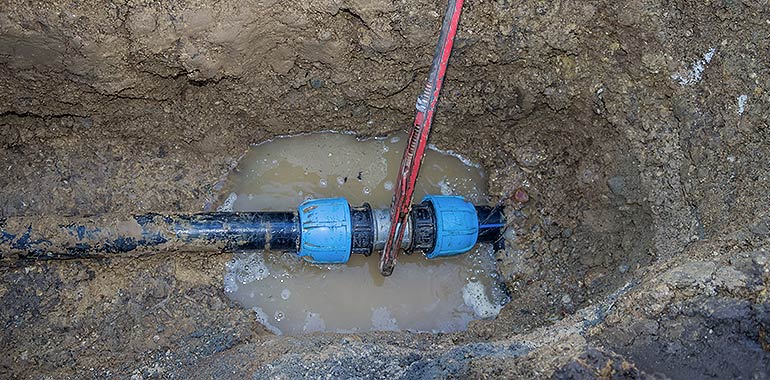 When traditional sewer line repairs or installations are not possible, we turn to trenchless sewer services. Big John's Plumbing is your preferred sewer line experts in Riverside, CA. With 25 years of industry experience and 10 years of operational experience, we have the tools and know-how to perform a variety of trenchless sewer pipe repair and installation services.
Our technicians are known for providing service with a smile. We always put customers first and make sure each service is thoroughly explained so you feel confident and educated about the decisions you make. Save money on your next service by downloading our current active coupons and online offers today.
How Does Trenchless Sewer Line Repair Work?
Trenchless repairs are efficient and effective when performed by a trained professional. While traditional sewer services require extensive digging and trenching to expose the damaged sewer line, a trenchless sewer line replacement or repair is able to get the job done without breaking ground.
The two main types of trenchless repairs include: Pipe Relining: A special pipe material is fed through the damaged or broken sewer line. From there, an inflatable bladder and curing agent is inserted into the material. The pipe is inflated and cured. Once the process is complete, the bladder is removed and you are left with a brand new, fully-functional sewer line installed directly inside the old line. Pipe Splitting: This process requires a cable with a strong splitting wedge attached to be inserted into the sewer line. As the wedge is pulled through the sewer, it destroys the old line while simultaneously installing a new line in its place.
What are the Benefits of a Trenchless Sewer Line Installation?
Traditional sewer line services are beneficial in many ways, however, there are several unique benefits that would cause a homeowner to choose a trenchless repair instead:
● Trenchless repairs are often faster and more efficient, making them ideal in situations where time is a factor.
● Not needing to dig around the pipe will also save money on the repair.
● In cases where the pipe is not easily accessed, a trenchless repair is best. For example, to fix pipes located under buildings or parking lots.
● Trenchless repairs also reduce the damage, keeping your yard intact.
Wondering what real people are saying about us? Check out our latest reviews and customer comments to see what others are saying.