Big John's Plumbing is a full-service plumbing company with over 25 years experience serving the Riverside, CA area. In that time, we've been able to help thousands of property owners with a wide range of plumbing issues, large and small.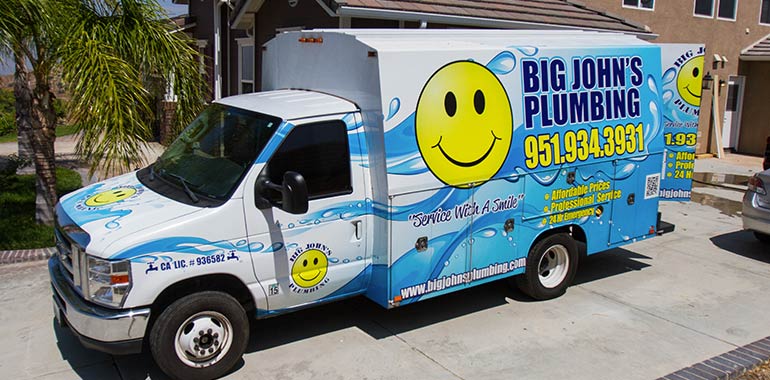 Honest, high quality service with a smile is what we strive for on every single call with the goal of keeping our customers safe and comfortable. "Excellent service and very friendly staff both on the phone and in person." -Michael A. For nearly three decades, master plumber and owner John Hernandez has been dedicated to providing consistent, top quality plumbing solutions for Riverside homeowners. In 2007, we opened up our shop because we saw the need for plumbing services that emphasize the goals of the client. When our clients have a plumbing emergency, we are there to set them at ease and quickly address their needs. Here are just some of the ways we put the needs of our clients above our own:
Fact based information so you can make an educated decision.
Straightforward pricing without any fancy sales tactics.
Personalized options tailored to your needs and budget.
Courteous, professional service and respect for your property.
"Courteous, knowledgeable, and respectful of my time…They know their craft and explained everything thoroughly." -Jay D. Your time is precious, and we won't waste it by being late. Rest assured, your technician will arrive at your door on time and work quickly and meticulously to get the problem solved. But that doesn't mean we're not attentive to your questions or concerns. On the contrary, we're all about educating our customers and we are happy to answer any questions you have. "Big John's takes that extra step to truly care and devote their time to clients. They get the job done right the first time." -Jackie D. At Big John's Plumbing, we take every measure to make sure our clients stay safe and comfortable. Rest assured that we get the job done right on the first try, so you won't have to waste any more of your time and can get back to your routine quickly and without any issues. All of our technicians have years of experience and are expertly trained in the latest technology to ensure all work is carried out efficiently and accurately.
If you would like to join the Big John's family click here to fill out an application!