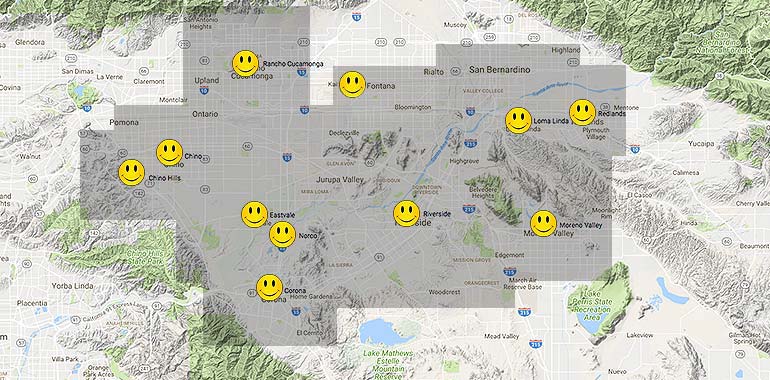 Looking for a reliable plumber in Riverside, CA, and the surrounding area? Look no further than Big John's Plumbing. Our experienced technicians offer meaningful results designed to improve your life and save you money in the long run. Whether you are looking for a fast repair or a comprehensive plumbing installation, we have all your plumbing needs under one roof.
Our service with a smile will put you at ease while our friendly technicians offer honest and reliable plumbing advice and service options. Regardless of the size or difficulty of the job at hand, we always put the customer first. Enjoy extra savings on your next plumbing project with our latest coupons and exclusive online offers.
In addition to serving Riverside with our high-quality plumbing advice, we also work in the following communities:
We have been helping homeowners in these areas since 2007 with our affordable and reliable plumbing services.
More Reasons to Work with Big John's Plumbing
When you choose us for your next plumbing project, you are truly investing in the best service at the best value. We offer comprehensive repair and installation options designed to make your life easier. In addition to this, we also include the following unique features to our service in order to add even more value:
Pricing Options: We believe that money should not prevent a homeowner from receiving the best possible service. Our pricing options fit any budget and will help make sure you get service that is perfectly catered to your unique needs.
Efficiency: Regardless of the problem at hand, we always provide the most efficient solution possible. When it comes to repairs, we aim to make sure your home gets back to normal as quickly as possible. Our installations are also designed to limit the disruption to your day.
The Educational Approach
At Big John's Plumbing, we have over 25 years of industry experience. In that time, we have found that the best way to handle plumbing repairs and installations is by making sure our customers are educated and well-informed about the process so they can make the best decisions for themselves. We always put customers first.
This includes carefully explaining our services and making sure the customer knows what to expect. Our fact-based informational assessments will put you at ease and make you more comfortable making decisions relating to your home plumbing system.
Check out our latest reviews to find out exactly what to expect when you call us.