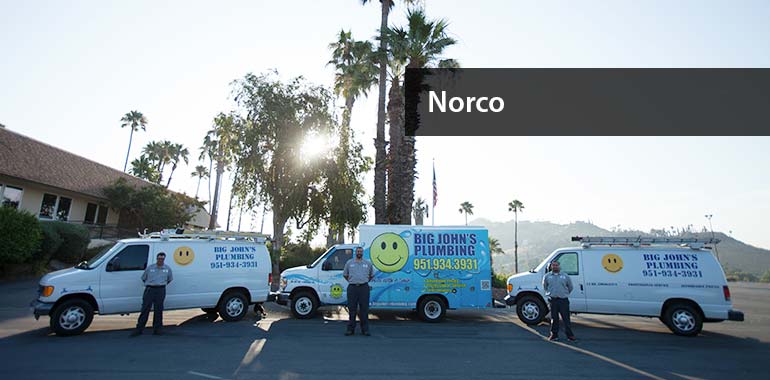 Protect your biggest investment, your home, with professional plumbing service from trained and experienced professionals. Big John's Plumbing has been open in Norco, CA since 2007. With 10 years in business and over 25 years of industry experience, we are the preferred drain cleaning company and plumbing expert in the area. Our motto is "Service with a Smile" and we make sure we deliver on every promise. By putting our customers first and offering exceptional advice and honest recommendations, our customers are able to improve their home's plumbing efficiency and save money at the same time. Take advantage of added savings on your next call with our exclusive online coupons and special deals.
Effective Plumbing Repair and Installation Services
Why would you choose a plumber that doesn't have your best interests in mind? At Big John's Plumbing, we inspect each situation in order to offer the best possible solution catered to your unique needs. Whether it's safe and effective drain cleaning or a fast water leak detection service, we always get the job done right. We use the safest and most advanced methods for our drain cleaning service and leak detections, making us your go-to drain cleaning and plumbing leak detection company. Regardless of the size or complexity of your plumbing service, our team can take care of it all. When you need a new plumbing installation such as a bathroom renovation, repiping project, sewer line installation, and more, we also offer our expert advice and professional techniques. Our installations will help prevent repairs, save you money, and add value to your home.
Looking for Professional Water Heater Repair?
From broken thermostats to corroded wiring, and hot water tank repair service, our water heater services are thorough and comprehensive. We inspect your unit to determine the underlying problem so we can fix the issue for good. In some cases, repairs are not recommended and we prefer an entirely new hot water heater installation. This is most effective with old and worn out water heaters or units that are experiencing frequent breakdowns that require repair. If your water heater is 10-15 years old and you are noticing rising energy bills and frequent repairs, consider a water heater replacement to save money in the long run. We will help you choose a new water heater that will suit your personal needs. Curious what others are saying?
Check out our latest reviews and customer comments to find out what to expect when you work with us.
Local Reviews
for Norco, CA
Powered by Nearby Now
---